Hello everyone!
This is "Don Dom" from Japan.
Do you know the place called Karuizawa?
Karuizawa is a popular sightseeing spot among Japanese.
Why is it popular?
You'll know that when you visit….
Where is Karuizawa?
First of all, I'll tell you what kind of place Karuizawa is.
Karuizawa is a town in the eastern part of Nagano Prefecture and is famous for being one of Japan's leading summer resorts.
Karuizawa is here.
The average temperature in Karuizawa in August was 20.5 degrees, 5.5 degrees lower than Tokyo.
The reason Karuizawa is cool even in summer is related to the altitude.
The altitude of Karuizawa is about 950 to 1200 meters.
The elevation of Mt. Takao in Tokyo, which is visited by the most climbers in Japan, is 599 meters, so you can see that it is a town located on high point.
( It is not Mt. Fuji that has the most climbers in Japan. )
In addition, Karuizawa has many resort hotels and villas, so I have an image of it as a place where celebrities come to visit in summer (lol).
This time, I will introduce the hotel I stayed in Karuizawa.
The name of the hotel is "Bleston Court."
The hotel is run by Hoshino Resort, which runs many resort hotels in Japan.
Hoshino Resort has a proven track record and trust, and there are few Japanese who don't know about it.
Hotel Bleston Court
Bleston Court is a very stylish hotel built in an environment rich in nature.
To be honest, it's too fashionable for me to follow. (lol)
The entrance of the hotel looks normal, but the polite staff will greet you at the entrance.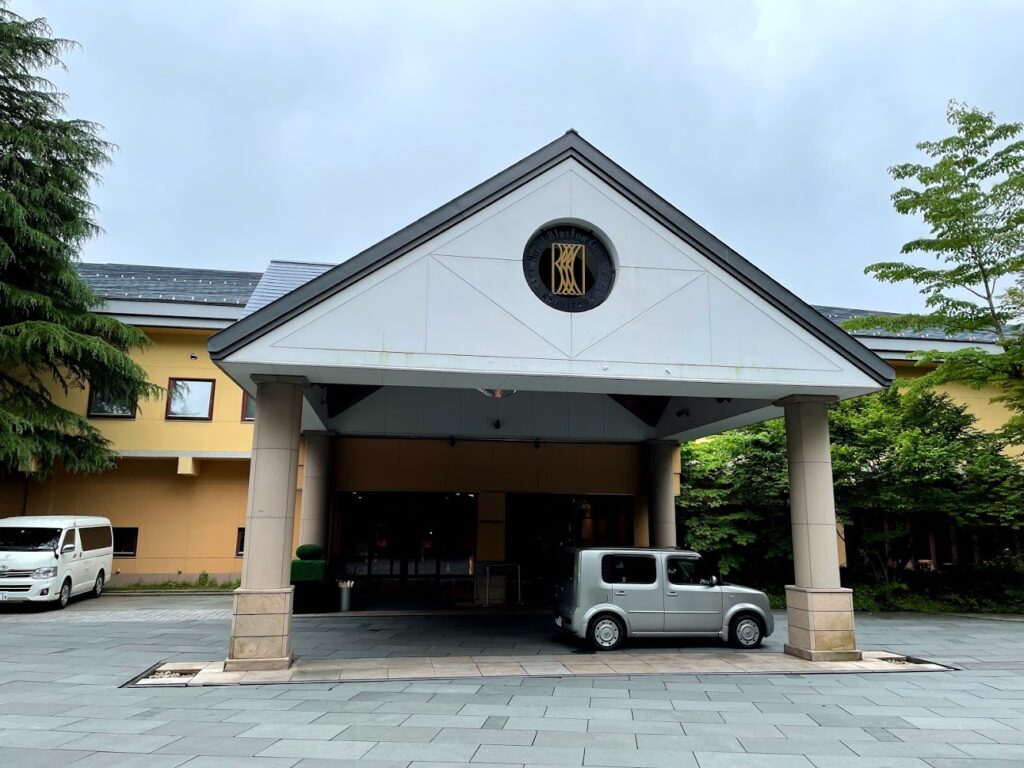 There is a reception and lounge when you go through the entrance.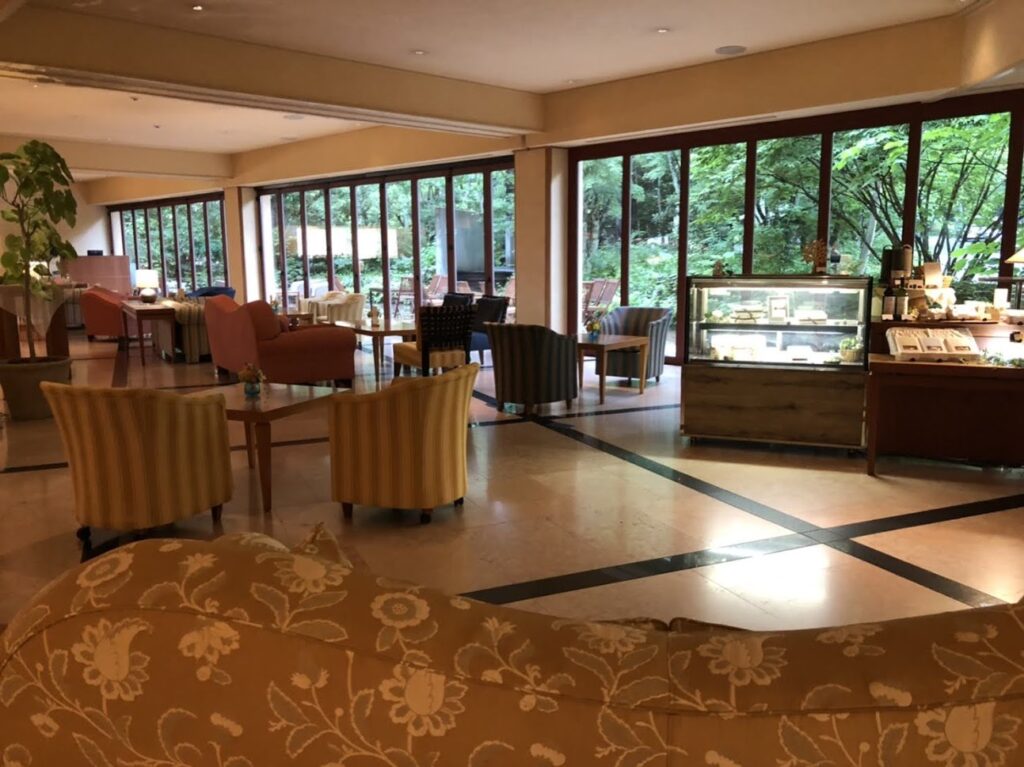 The lounge is very beautiful and it felt stylish again.
Bleston Court is very popular as a wedding hall.
Surprisingly, there are also days when more than 40 couples hold weddings.
So, the lounge is clean and stylish, but it is a place where people attending the wedding wait.
If you stay at this hotel, you will see many couples.
I stayed in a room a little far from the building of the entrance.
You will pass through the beautiful forest from the building of the entrance.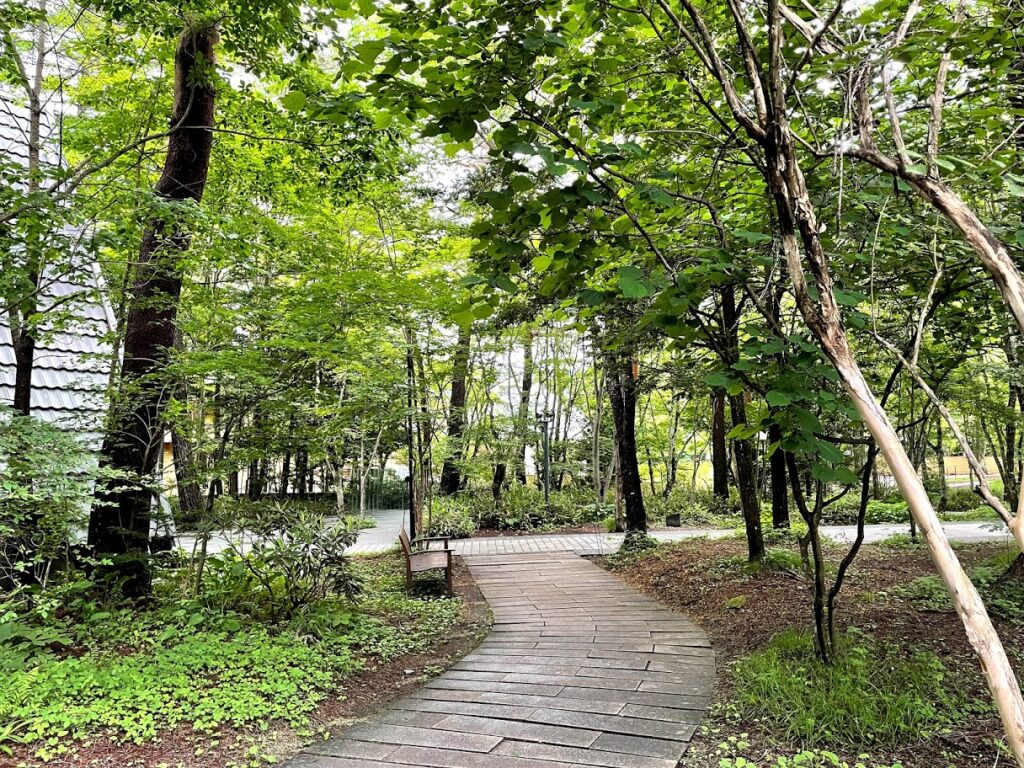 After passing through the forest, there is another stylish detached room, and I stayed there this time.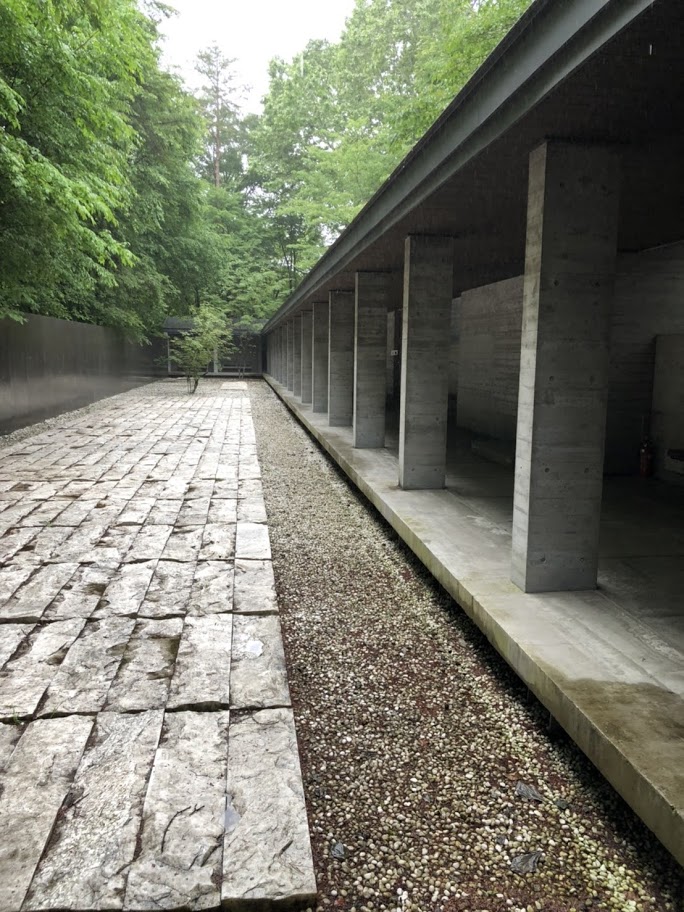 The room looks like this.
I forgot to take a picture of the whole room, so I quoted it from the official website, and it was this room.
The ceiling is high and the bed is placed in the wall.
I had a baby bed prepared because I was with my child. You can also rent a bed guard at the front desk.
The bathroom is also very stylish. It has a sharp bathtub that you don't usually see in hotels where you stay.
And there is no partition between the bathroom and the room, so it feels open.
To be honest, this bath is a little difficult to use, but there is a hot spring nearby, so I would like you to use it. (Hot springs will be described later.)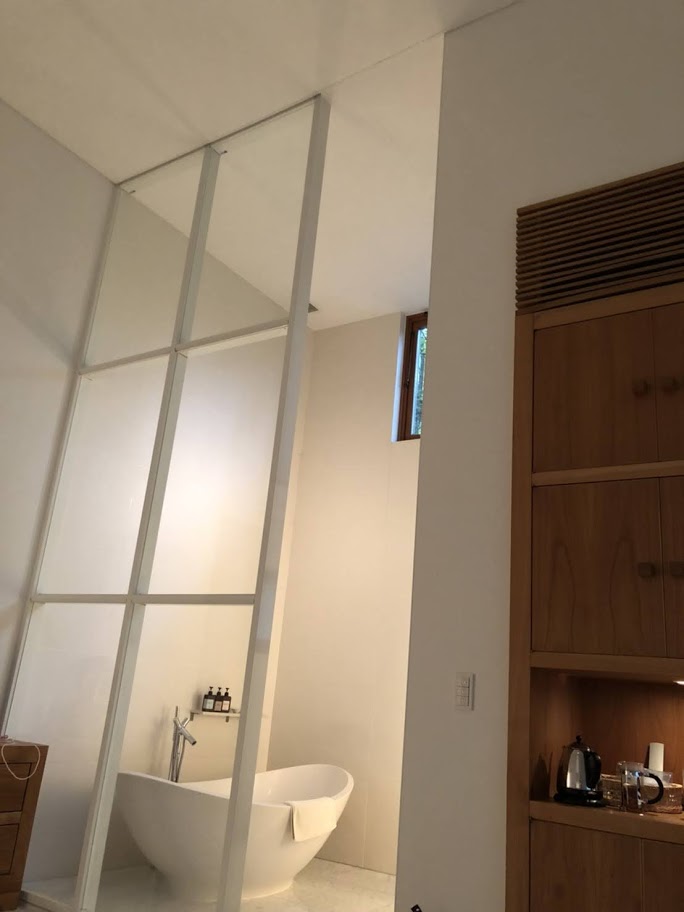 The toilet is simple and normal.
The difference from an ordinary hotel is that the water from the tap is "natural water"!
So you can drink the water from the faucet without worrying about it.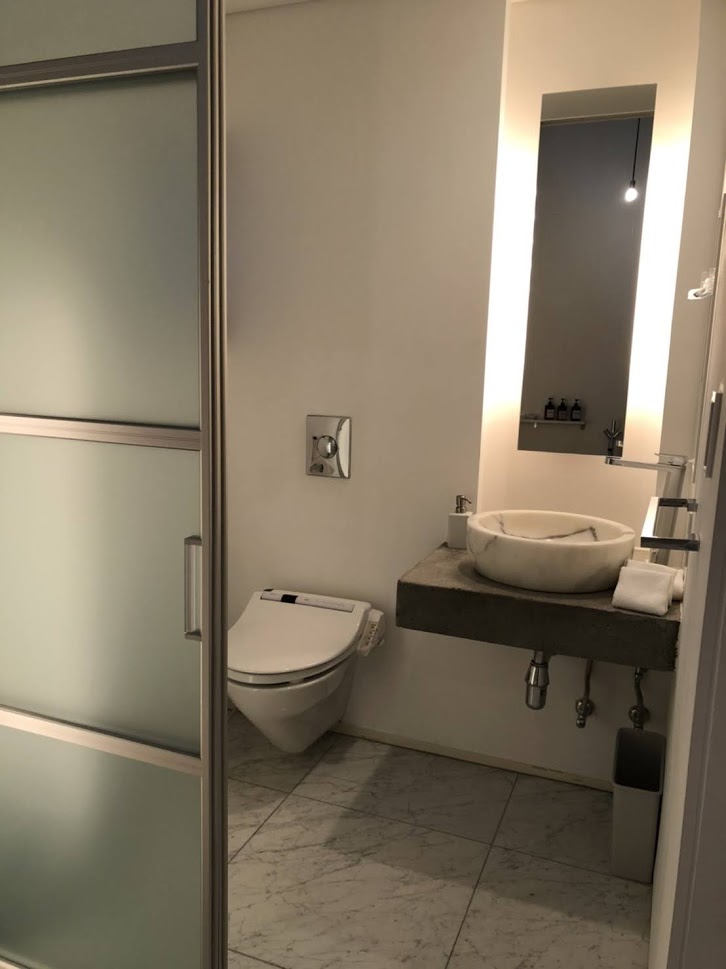 Surprisingly, there is no television in this room.
It was my first time to stay at a hotel without a TV, so I was surprised.
There is no TV, but there is a component, so you can listen to the radio or CD.
The pamphlet in the room also said "enjoy nothing", so it's nice to relax and enjoy the surrounding nature instead of watching TV once in a while.
There is tea in the room as a welcome drink, so the time spent relaxing while drinking tea is truly "luxury".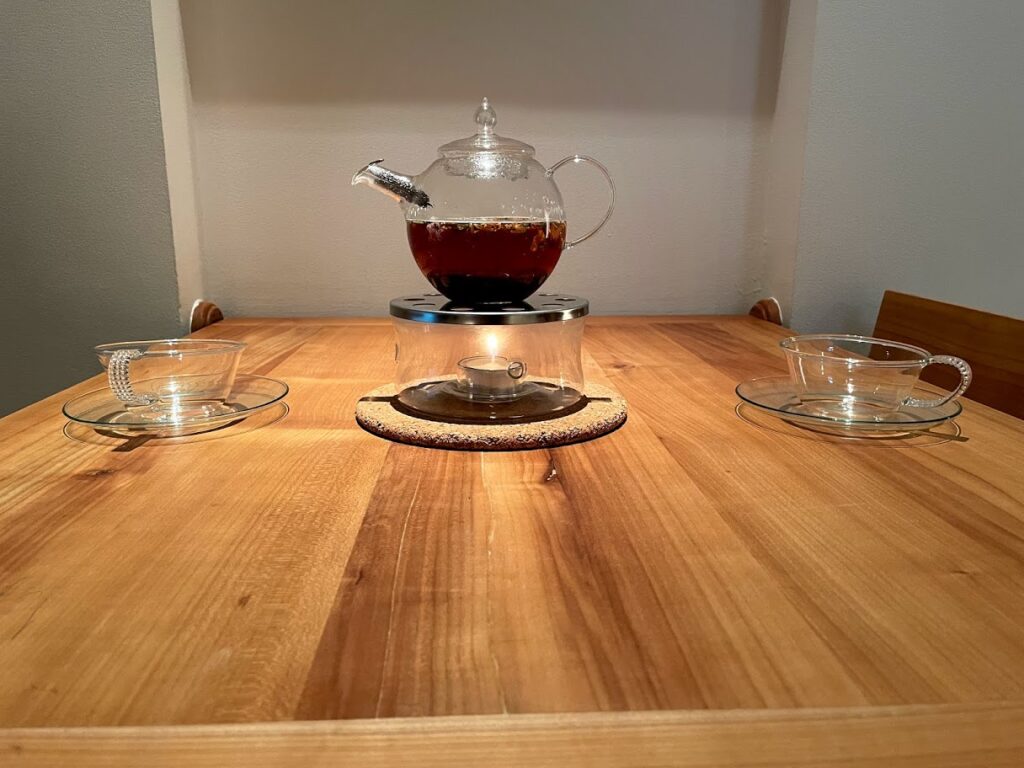 Breakfast
I had breakfast at a restaurant called "No One's Recipe" in the building where the front desk is located.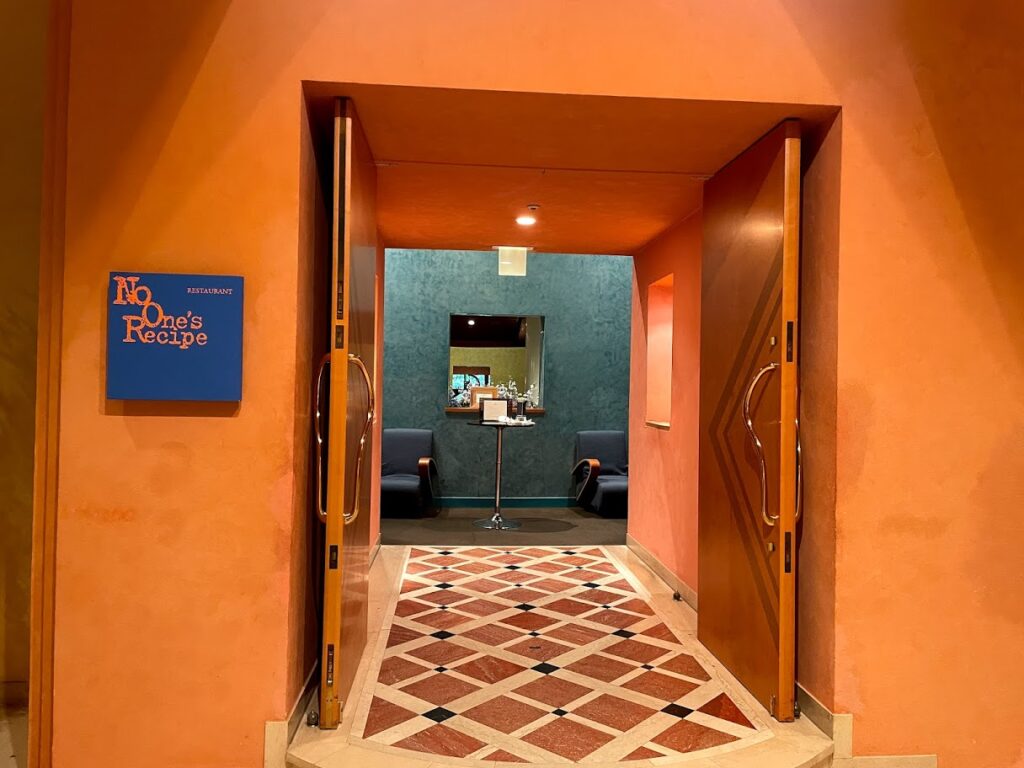 Breakfast is a half buffet, and you can take your own salad, drink and soup.
The staff will bring the main dish to your table.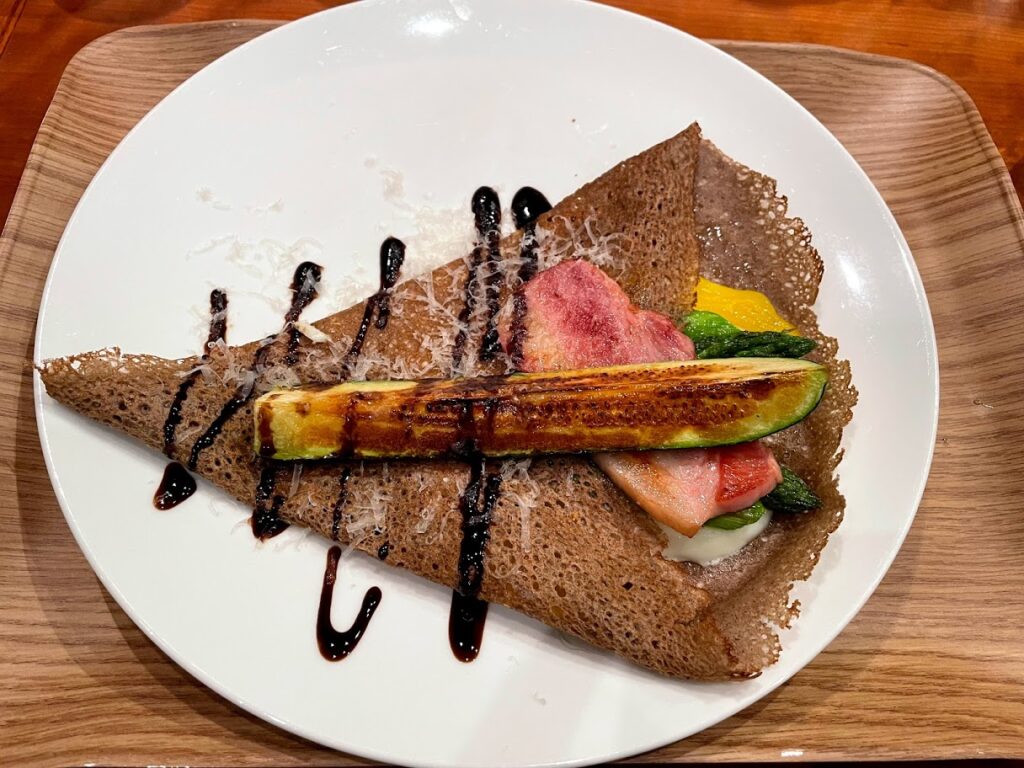 It's a stylish main dish. It is said to be a crepe of buckwheat flour.
By the way, I don't like tomatoes, so I told them beforehand, and they changed my dish to asparagus instead of tomatoes!
Also, I stayed for 2 nights, but they prepared a different menu on the 2nd day, so I never got tired of it.
They have apple juice, milk and etc, but they are very delicious.
Personally, I really want you to drink apple juice!!
Tombo no yu – Onsen(hot spring)
People staying at Bleston Court can use the nearby hot spring for free.
If you tell the front desk that you want to go to the "Tombo no yu", they will arrange a shuttle bus so let's go to the hot spring by bus. It takes less than 5 minutes to get to the hot spring.
When you get off the bus, you can see the entrance of the hot spring right in front of you, so you won't get lost.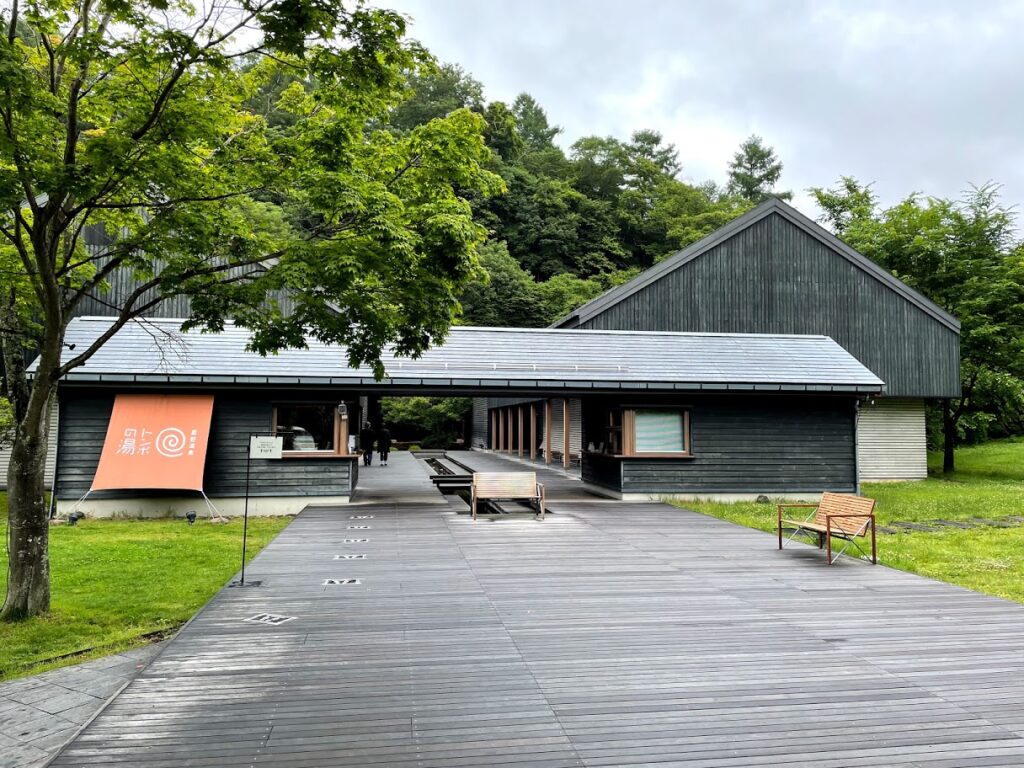 If you show your room key at the hot spring reception, you can enter for free.
Also, you can rent bath towels, face towels and towels for sauna at the reception.
You can also get a razor if necessary.
The entrance of the hot spring is like this.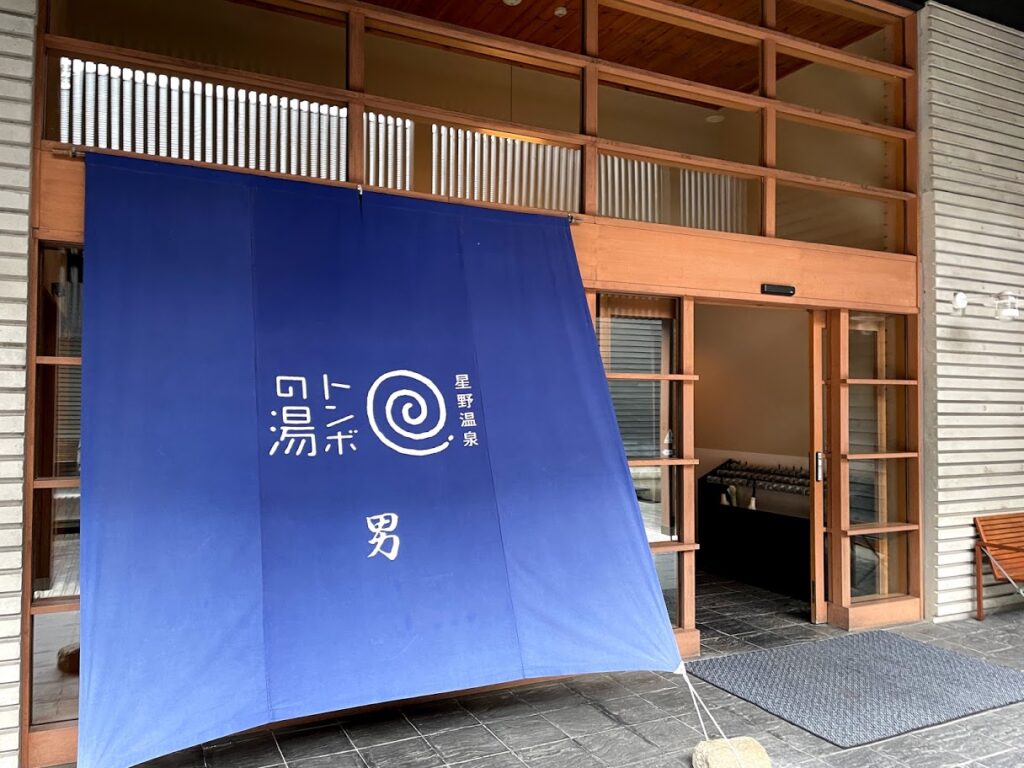 There is an indoor bath, an open-air bath and a sauna in the hot spring.
They say that hot springs are effective for "Low back pain, sensitivity to cold, recovery from fatigue, and dry skin" and so on.
This hot spring is very popular, but there is a time only for hotel guests, so how about enjoying the hot spring while making use of such time?
When you go back to the hotel, just tell the staff at the cafe next to the hot spring that you want to go back to Bleston Court and they will arrange a shuttle bus for you.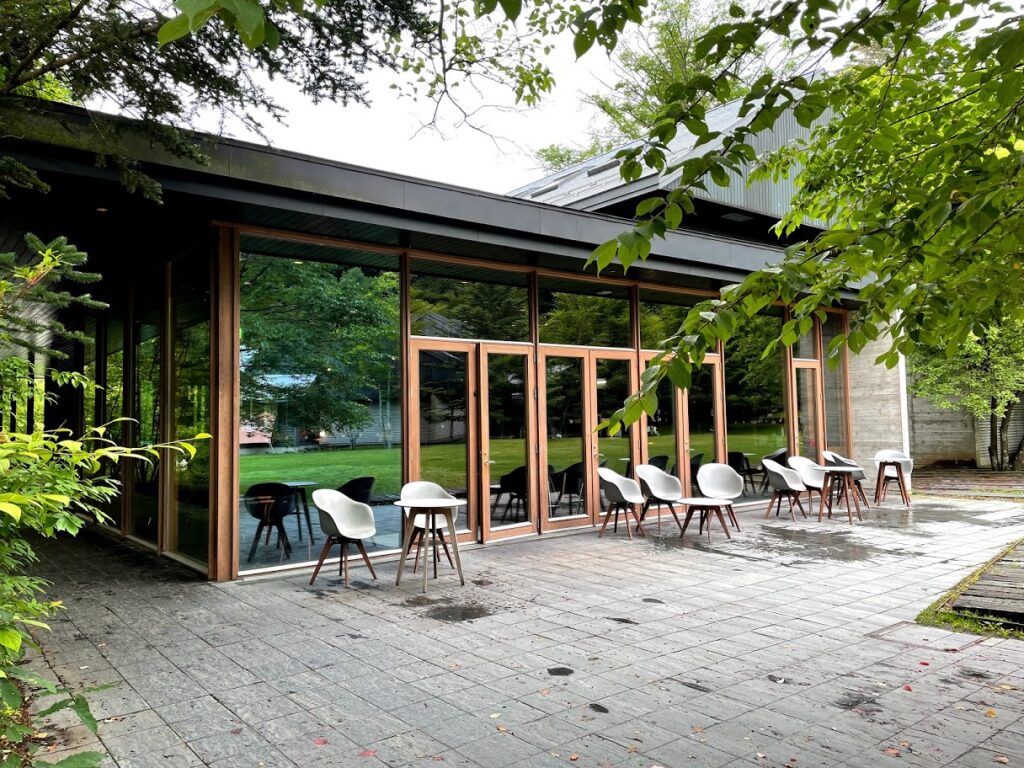 My daughter's evaluation is ・・・
I personally was very satisfied with the hotel, which was very stylish and just like a resort, but my daughter's evaluation was very strict.
I took my 6-month-old baby with me this time, but she kept crying whether the environment was not good or she was stylish. Especially in the room, the ceiling is high so it is easy to make a sound, but I was scared and cried a lot when I was in the room. She laughed when we went out for a walk. (lol)
Also, there is no washing place in the bathroom, so it is a little hard to wash the baby.
If you go to the hot spring, there is a baby bath in the hot spring, but I think some people feel a little reluctant to wash their baby in the hot spring where many people come and go.
So, you should be a little careful when you bring a baby.
However, there was a family with a baby other than me in the hotel, and they lend me various items for babies, so I think it is possible to enjoy it.
Access
There is a shuttle bus from Karuizawa Station to Bleston Court.
But it only runs until evening, so if you arrive at night, you have to take a taxi.
It was about 2600 yen from the north exit of Karuizawa Station to Bleston Court.
According to the map, it takes about 10 minutes on foot from Naka-Karuizawa Station, so you think it is possible to walk, but I think it is a little difficult to walk from the station to the hotel on a hill.
So, if you have a shuttle bus, I recommend you to take a shuttle bus and take a taxi at other times.
If you use Narita Airport when you come to Japan, let's go from Narita Airport to Keisei Ueno Station by train.
Then, walk from Keisei Ueno Station to JR Ueno Station.
Then, take Shinkansen from Ueno Station to Karuizawa Station.
It takes about 2 hours and 30 minutes and the transportation fee is about 8000 yen.
Finally
I usually don't stay at such a luxury resort hotel, so I was very satisfied.
To be honest, I had a hard time because my baby cried, but it was a good experience.
This is a very stylish and relaxing hotel, so how about using it for celebrations or anniversaries?
It may still be difficult to travel casually due to COVID-19, but I think it's good to spend a relaxing time in Karuizawa, a summer resort.
Thank you!